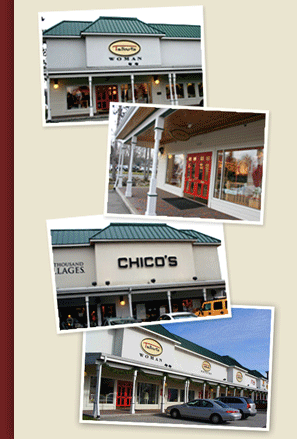 Leasing contact: 574.236.8000 leasing@centennialplacecenter.com

Tenants: At the retail epicenter of Michiana, Centennial Place is a 36,000 square foot retail center serving local and national merchants and their patrons since 1994. Talbots and Chico's anchor a collection of national brand women's apparel and unique local shops featuring gifts, fashion, jewelry and home decor. Concord Custom Cleaners anchors a complement of dining, dry cleaning, travel and salon services. This unique blend of shopping, dining and services makes Centennial Place the preferred choice for both merchants and their patrons.

Location, location: Centennial Place's location on Cleveland Road, just east of Grape Road, is two blocks from University Park (a major regional shopping mall) and less than four miles from the University of Notre Dame. This Granger, Indiana locale is the fastest growing and has the highest average household income of the surrounding South Bend, Mishawaka and Elkhart areas.

Traffic count: Centennial Place's retail suite signage is highly visible to over 29,500 drivers passing daily on Cleveland Road. Another 19,000 daily drivers on northbound Grape Road easily spot the Centennial Place sign rising above its landmark: a historic home built in 1868. The gracious, Italianate structure was one of the first residences built in the South Bend-Mishawaka area and has been carefully restored to preserve this community treasure. Shoppers can explore a bit of local history while purchasing famous Jumbo Jelly Beans and other nostalgic candy from the current tenant, Wakarusa Dime Store.

Quality is in the details: 36,000 square feet over-all, Centennial Place features retail suites ranging from 3600 square feet maximum contiguous to 1200 square feet minimum divisible. Its two open-air structures face south, making all store signs clearly visible to drivers passing on Cleveland Road. Covered, interlocking stone walkways connect the storefronts, which feature custom exterior doors, decorative lighting and plate glass display windows. Dual entry ways lead traffic in from Cleveland Road to 150 surface parking spaces directly adjoining Centennial Place's covered walkways.